Test your French and get an official certificate from the French Ministry of Education
The TCF is the French language test awarded by the French Ministry of Education (CIEP):
TCF assesses a person's level of French language for general purposes. It is intended for students who are not native French speakers and who, for academic reasons, wish to have their competency in French assessed and certified simply, reliably and quickly.
All candidates receive a certificate of results that grades them at one of six levels (from A1 to C2) on the competency scale defined by the Council of Europe (Common European Framework of Reference for Languages). This means that it is not possible to fail the TCF, which is valid for 2 years.
The basic TCF consists of a compulsory 3-part test, which can be integrated with 1 optional test.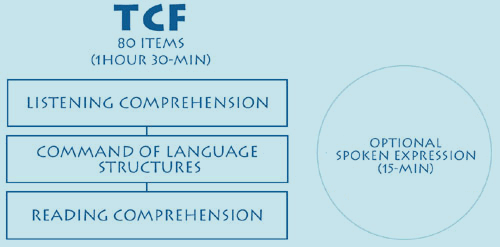 More details : www.ciep.fr
How to prepare and enter for the TCF with CMEF
Our morning courses provide general preparation for the TCF. The "intensive French" afternoon option includes training for the tests with targeted exercises (in the weeks when the TCF tests are scheduled).
2023 exam dates 
on Thursday July 6th
on Thursday July 20th
on Thursday August 3rd
Exam fees
compulsory test = €80
compulsory test + optional spoken expression test: €120