SALUT LA FRANCE ! ONLINE !
For Juniors 10 – 15 years old
Make new friends online and in French!
Because travelling abroad is a challenge today, we have designed a French course specially adapted to young students. CAVILAM-Alliance Française launches its junior international virtual campus.
Our virtual campus is organized in two-week sessions with the possibility of attending a single week. It includes videoconference classes and cultural activities. It is an opportunity to discover the French language and culture, to improve knowledge of vocabulary and grammar in a fun way and to progress in communicating in French. And, why not, get a foretaste of a future French language immersion stay in France?
Our Campus classes are led by specialists in teaching French to young students. We use innovative, dynamic and interactive methods with numerous activities to develop French language skills. Our objective is simple and clear: make young students enjoy learning French.
The Ev@lang official French placement test is offered to all participants in order to evaluate their level of French and place them in the most adapted class.
At the end of the course, all participants receive a certificate of attendance.
In collaboration with Cavilam Alliance Française de Vichy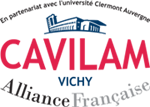 Course details
 Duration of the program: from 1 week
The lessons: 15 videoconference lessons per week . Monday to Friday: 9:30 a.m. to 12:15 p.m. (French local time) (including 2 breaks of 15 mn)
Timetable week of July 13th:
Tuesday July 14th, French national holiday, no classes
Monday July 13th, Wednesday July 15th, Thursday July 16th, from 9:00 to 12:30 (including 2 breaks of 15 Mn)
Friday July 17 th : from 9.30 am to 12.15 pm
Duration of lessons: 45 minutes
 Cultural activities: 2 cultural activities of 45 minutes per week . Tuesdays and Thursdays from 5pm to 5.45pm
(Musical entertainment, cultural quiz, contests, magic tricks in French, etc.).
 Number of students: 8 – 12 per group
 Ages: 10 – 15 years
Dates and prices
Dates
Sessions of one or two weeks:
From June 22nd to July 3rd, 2020
From July 13th to July 24th 2020 (July 14th is a public holiday in France, classes will be replaced during the week.)
From August 3rd to August 14th, 2020
From August 24th to September 4th, 2020
ONE WEEK
234€
15 videoconference lessons
Course material
Test Ev@lang
2 cultural activities
Certificate of attendance
TWO WEEKS
468€
30 videoconference lessons
Course material
Test Ev@lang
4 cultural activities
Certificate of attendance